Catalogue of ants of Europe, the Mediterranean Basin and adjacent regions (Hymenoptera: Formicidae)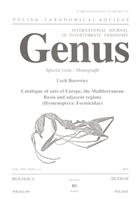 Description:
Text English. Catalogue of the 1261 species of ants recorded from the region, with country data, list of synonyms and comments. (No. of species: Europe, 622; North Africa, 441; Middle East, 256; Turkey and transcaucasian countries, 358; Iran, 165; Arabian Peninsula, 304).
Genus XXV (1-2), Special Issue.
You may also like...