Catalogue of the Heteroptera of the Palaearctic Region, vol. 5: Pentatomomorpha II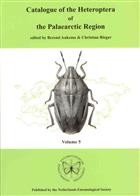 Description:
Catalogue of Palaearctic Stenocephalidae, Rhopalidae, Alydidae, Coreidae, Urostylididae, Thaumastellidae, Parastrachidae, Cydnidae, Thyreocoridae, Plataspidae, Acanthosomatidae, Tessaratomidae, Scutelleridae, Dinidoridae & Pentatomidae
Condition
New copy but with crease to rear cover.
Other titles from the series : Catalogue of Heteroptera of the Palaearctic
You may also like...