Catalogue of the hostplants of the Neotropical butterflies / Catalogo de las plantas huesped de las mariposas neotropicales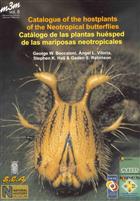 Description:
Brings together the scattered information on foodplants of the Neotropical butterflies. 18,000+ hostplant records (3,656 of which have not previously been published). The Neotropical region (Central/South America and the Caribbean) has 7,783 butterfly species, of which this book contains hostplant records for 1,991 (representing 614 of the 957 genera from the region). Invaluable reference source for those interested in Neotropical butterflies and their biology, in particular amateur and professional lepidopterists, butterfly farmers, agriculturalists and ecologists
You may also like...