Chironomidae of the Holarctic Region: Keys and diagnoses. Part 1 - Larvae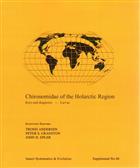 Description:
A completely revised guide to the identification, ecology and distribution of the larval Chironomidae of the Holarctic Region (N. America and Europe through Japan and the Far East). Allows accurate generic identification, even for those not expert in the group. Previous diagnoses, keys and figures have all been revised and improved, with newly described and recently associated larvae have been incorporated. Subfamilies: Buchonomyiinae, Podonominae, Tanypodinae, Telmatogetoninae, Diamesinae, Prodiamesinae, Orthocladiinae, Chironominae. A section on preservation of material for molecular study is included, with details of slide preparation and vouchering specimens for future researchers.
You may also like...

Elliott, J.M.; Humpesch, U.H.
Price £27.00