CIESM Atlas of Exotic Species in the Mediterranean V1: Fishes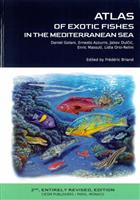 Description:
2nd entirely revised edition. CIESM, the Mediterranean Science Commission, naturally takes a keen interest in this process which has major impacts on marine biodiversity. Following a special session held during its 1992 Congress in Trieste, the Commission mobilised large numbers of biologists on the subject, first through expert meetings, then through the establishment of task forces. The first edition of this atlas was published in 2002.
This richly illustrated second edition – the fruit of many years of work and exchanges by international teams of ichthyologists – covers 188 exotic fishes, of which 107 were not present at the time of the first edition 20 years ago.
It documents, with the back-up of hundreds of maps and references, a biological world that is changing in front of our eyes at an unprecedented rate in the Mediterranean Sea. It is also unique in presenting 88 additional fish species that have been too often (mistakenly) listed as exotic. All in all a must-read for all those interested in the fate of our seas.
Other titles from the series : CIESM Atlas of Exotic Species Series
You may also like...