The Complex Lives of British Freshwater Fishes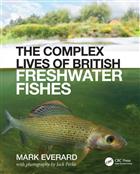 Description:
This stunningly illustrated book goes far beyond a run-of-the-mill nature guide. It explores the fascinating life histories of Britain's freshwater fishes, a group of animals which, despite their importance and ubiquity in our diverse still and flowing fresh waters, has before now been rarely regarded and respected as 'wildlife'. Our native fishes tend generally to be considered as simply something for anglers to catch or for people to eat, yet they work enormously hard for us. Author Mark Everard, avid nature-watcher, angler and scientist, shows how freshwater fish provide food, ornamentation, sport and cultural identity, and highlights their huge importance for conservation as part of the living ecosystems upon which we all depend. He dives into the mysteries moving below the surface of our rivers and lakes, bringing the wonderful and fascinating world of the diversity of British freshwater fish species into plain sight and into mind. This unique book features over 100 full-colour photographs by pioneering photographer and filmmaker Jack Perks, whose work has featured on BBC Springwatch, The One Show and Countryfile. The book is filled with technical detail useful to conservationists and biology students. Most importantly, it is also presented in an accessible, visually attractive and engaging manner that will appeal to anybody with an interest in the natural world: the conservation-minded public, the angling community, and our nation of wildlife enthusiasts. Whatever your background, this book will open your eyes to our freshwater fishy wealth, and the many ways in which it enriches our lives.
You may also like...