Coastal Ecosystems: Environmental importance, current challenges and conservation measures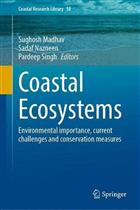 Description:
This volume incorporates theoretical and practical knowledge through case studies and reviews to serve as a baseline of information for coastal ecosystem research, and discusses the impacts of pollution, industrialisation, agriculture and climate change on coastal ecosystem biogeochemistry and biodiversity. The case studies address the role of coastal ecosystems as a carbon sink which is getting impacted by anthropogenic disturbances. Through this analysis, the book covers various strategies for the conservation and management of coastal ecosystems, considering their unique ecological and biogeochemical attributes and region-specific threats and impacts. The book will be of interest to a wide range of readers including students, researchers and professionals in coastal ecosystem science, coastal pollution, climate change adaptation, biodiversity conservation and environmental management.
Other titles from the series : Coastal Research Library
Click to view all titles in this series...

Jawad, L.A. (Ed.)
Price £179.99
You may also like...