Coleoptera: Latridiidae Fauna Iberica 42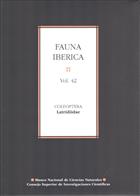 Series : Fauna Iberica
Volume: 42
Publisher : CSIC
Published In : Madrid
Illustrations : 109 text figs
Description:
Text Spanish. First synthesis of current knowledge of this group of Coleoptera for the Iberian Peninsula and the Balearic Islands. Includes 121 species, some of which are recorded for the first time in the Iberian and European fauna. Illustrated by 91 coloured drawings, supplementing the detailed species descriptions. An identification key (using external characters), along with the illustrations will facilitate the identification of species. Information on the global and Ibero-Balearic geographical distribution and biology of the species are also included.
Other titles from the series : Fauna Iberica
You may also like...