Collectiones entomologicae (1961-1994)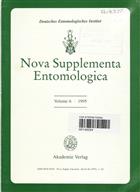 Description:
Nova Suppl. Ent. 6. Text German. A continuation of Horn et al. "Coll. Ent." (1990), including corrections to the earlier publication. Gives the location of entomological collections.
Condition
Ex-lib: barcode sticker and ink stamp to front cover. Good.
Other titles from the series : Nova Supplementa Entomologica
You may also like...