Communication Between Honeybees: More than Just a Dance in the Dark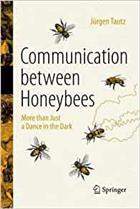 Publisher : Springer
Illustrations : 49 col illus, 5 b/w illus
Description:
Jurgen Tautz, renowned German bee researcher, explains how bees communicate. Exciting and surprising new insights on communication between bees.
During the history of bee research, scientists have peered deep into the inner life of bee colonies and learned much about the behaviour of these insects. Above all, the bee waggle dance has become a famous and extensively discussed phenomenon. Nevertheless, recent insights reveal that while bees are social insects inside the hive they also communicate with one another outside the hive. In this book, Jurgen Tautz, renowned German bee researcher, provides an entertaining, fresh and enlightened account for lay and professional readers, not only about the fascinating dance language but also about additional remarkable phenomena concerning information exchange between bees.
From the author of the bestseller The Buzz about Bees. Communication between Honeybees assembles, for the first time, a complete overview of how bees understand one another. Although communication biology research on bees has so far concentrated largely on events within the hive, this book directs attention as well, to how bees communicate in the field outside the hive. The reader learns which steps new bee recruits take to reach the feeder a dancing forager has advertised. The book analyses the status of work on the bee dance published over the last 100 years and orders the essential findings as building blocks into a coherent new concept of how bees find their target. In addition, the historical survey of research on the 'Bee Language' explains how several contradictory and incomplete hypotheses can still survive.
A fresh point of view on one of the most remarkable behavioural performances in the animal kingdom. Observation from a different viewpoint leads to previously unknown insights. Such new perspectives clearly reveal both how large the gaps in our knowledge still are in relation to the language of bees and which direction research must take to complete the picture of one of the most impressive behavioural accomplishments in animals. Prof. Dr. Jurgen Tautz is an expert on bees, sociobiologist, animal behaviourist and emeritus professor at the Biozentrum, University of Wurzburg. He is a bestseller author and recipient of many awards of excellence for his successful communication of science to a wide public.
You may also like...