Conopidae (Diptera) (World Catalogue of Insects 15)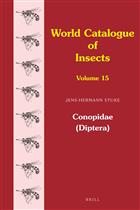 Description:
Offers the first complete list of this family worldwide since 1919. 808 recent and fossil species, together with their synonyms, belonging to 57 genera are listed. All original descriptions have been verified by the author. Type material and its depository is described for every species, the published distribution for each species is documented at the country level, and a complete list of references is provided for every record. Published information concerning hosts, possible hosts and egg carriers is compiled, with some 309 host species being reported for 73 species of Conopidae. With more than 1450 literature citations, this catalogue presents by far the most complete taxonomic assessment of this family produced to date.
Other titles from the series : World Catalogue of Insects
You may also like...