Contributions to the Biology of the Philippine Archipelago and adjacent Regions: The Fishes of the Families Banjosidae, Lethrinidae, Sparidae, Girellidae, Kyphosidae, Oplegnathidae, Gerridae, Mullidae, Emmelichthyidae, Sciaenidae, Sillaginidae, Arripidae,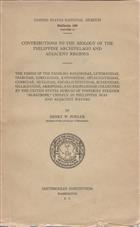 Description:
U.S. Nat. Mus. Bull 100, vol. 12
Condition
Good ex-lib. copy
Other titles from the series : United States National Museum Bulletin
You may also like...