Contributions to the Biology of the Philippine Archipelago and adjacent Regions: The Fishes of the Groups Elasmobranchii, Holocephali,Isospondyli, and Ostarophysi obtained by the United States Bureau of Fisheries Steamer "Albatross" in 1907 to 1910 in th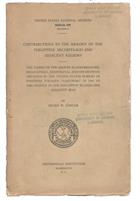 Description:
U.S. National Museum Bulletin 100. Vol. 13
Condition
Orig. wrappers. Good ex-lib.: ink stamps to wrappers and ocassionallly elsewhere.
Other titles from the series : United States National Museum Bulletin
You may also like...