Correlation of the South American Silurian Rocks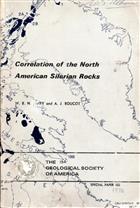 Description:
The Geological Society of America, Special Paper 102.
Condition
Wrappers (slightly worn). Ex-lib. Good.
Other titles from the series : Geological Society of America Special Paper
Click to view all titles in this series...
Ziegler, A.M.; Richards, R.B.; McKerrow, W.S.
Price £20.00
Berry, W.B.N.; Boucot, A.J. (Eds)
Price £15.00

Mu, En-zhi; Boucot, A.J.; Chen, Xu; Rong, Jia-yu
Price £25.00
You may also like...