Crossbill Guide: Canary Islands I: Fuerteventura and Lanzarote - Spain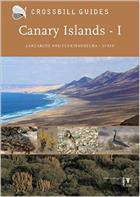 Description:
Lanzarote and Fuerteventura, the two easternmost Canary Islands, are very different from the rest of the archipelago. With their odd cross of volcanic and Saharan-style landscapes, they form a special destination – one where you can find birds and other animals that occur nowhere else in Europe or even the world.
Unexpected perhaps for these dry islands, there is beautiful flora to explore, while the ocean itself is inviting for snorkelling or watching dolphins and seabirds. With this guidebook you'll discover that Lanzarote and Fuerteventura have much more to offer than just sun and beaches.
Other titles from the series : Crossbill Guides
You may also like...