Crossbill Guide: Eastern Andalucia:Malaga to Cabo de Gata, Spain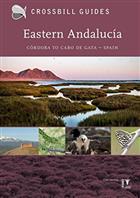 Description:
Andalucía is too large and diverse to do justice in a single guidebook. This book covers eastern Andalucía - Córdoba, Jaen, Granada and Almería. It describes routes and sites in, amongst others, the Sierra Nevada, Sierra de Cazorla, Sierra de Andújar, Cabo de Gata and Desierto de Tabernas. This book describes the flora and fauna, landscape and traditional land use of this region, plus 20 detailed routes and 18 sites with concrete indications on where and how to find the birds, wildlife and flora.
Other titles from the series : Crossbill Guides
You may also like...