Crossbill Guide: Finnish Lapland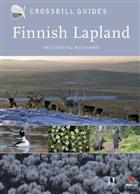 Description:
Finnish Lapland is one of the last great wildernesses of Europe. A birdwatcher's paradise. Rare wildflowers, dragonflies and butterflies and the presence of large predators like Wolf and Brown Bear confirms Finnish Lapland as a must-see destination for nature lovers
Other titles from the series : Crossbill Guides
You may also like...