Crossbill Guide: North-East Poland: Biebrza, Bialowieza and Wigry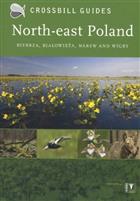 Series : Crossbill Guides
Publisher : KNNV
Published In : Utrecht
Illustrations : col photos, illus, maps
Description:
This guide covers the famous National Parks of Biebrza and Bialowieza, plus the Eastern Masurian Lake district and several less known areas such as Augustow, Wigry NP and Narew NP. Combined they form one of the top destinations for birdwatchers and naturalists alike. Describes the flora and fauna, landscape and traditional land use of this region, plus 20 detailed routes and many sites descriptions with concrete indications on where and how to find the birds, wildlife and flora
Other titles from the series : Crossbill Guides
You may also like...