Crossbill Guide: Iceland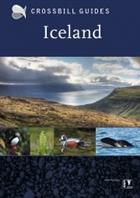 Description:
Iceland is a country known for its superb landscape, unique geology and splendid birdlife. Detailed route descriptions (16 in total) and site descriptions (close to 50) for naturalists throughout Iceland, covering the best sites for birdwatching, finding wildflowers, seeing marine life and, in the case of Icleland, the most remarkable geological sites. With extensive descriptions of the ecology, geology, history and flora of Iceland
Other titles from the series : Crossbill Guides
You may also like...