Crossbill Guide: Provence and Carmargue, France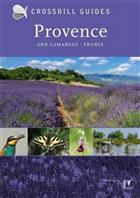 Description:
The Provence is the richest wildlife region of France. Whether you consider the flora and fauna in detail or simply take a broad view of the landscape, every corner of this region is different.
There are the spectacular, bird-filled wetlands of the Camargue, but right next to them lies the arid, almost desert-like plateau of La Crau. Then there are the sizzling hot Mediterranean hillsides and the inviting clear seas of the Cote d'Azur. Just a little inland you can marvel at the fairylike, gnarled beech forests on the north slopes and the flower and butterfly rich subalpine plateaus in the mountains. All of this variety is present within the small region of Provence.
The Crossbill Guide to Provence and Camargue, France describes 25 routes and 20 sites found within the region. The book is complemented with extensive chapters on landscape, geology, history, descriptions of the flora and fauna and tips to observe wildlife.
Other titles from the series : Crossbill Guides
You may also like...