Crossbill Guide: Southern Morocco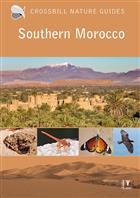 Description:
The Crossbill Guide Southern Morocco covers the part of Morocco that lies roughly south of the city of Marrakech. It includes the High Atlas and Anti-Atlas Mountains, the bird-rich High Steppe Plain of Ouarzazate and the Moroccan Sahara south of that. Here the Drâa River Valley and Erg Chebbi are the famous regions.
Further west, the Souss Valley and Atlantic coast is included from Essaouira down to Sidi Ifni (thus excluding the Western Sahara).
The Crossbill Guide Southern Morocco is a thorough and practical guide for birdwatchers, naturalists and nature lovers. It offers background information, routes and site descriptions, plus tips on finding and watching all kinds of wildlife. Each route offers detailed descriptions of where to find wildlife and wildflowers. The book offers a mix of walking routes and car itineraries with stops and short walks. Although some are challenging, all the walks in this book are designed to explore the landscape and find birds and wildlife rather than simply covering ground.
Southern Morocco is a land defined by mountains and deserts. There are two massive mountain ranges: the High Atlas and Anti-Atlas, with desert to south and arid steppes between them and to the north. With altitudes in excess of 4000m this is one of the few places where alpine conditions are reached on the African continent. The coast with its estuaries and cliffs has a rich wildlife due to the cool offshore currents. The whole area is marked by an unmatched diversity of ecosystems and species, an increasing number of which are being recognised as endemic to this part of northwest Africa.
Unlike its near neighbours this is a stable and welcoming land, with a well- established tourism infrastructure that makes travelling to and exploring this varied place both simple and enjoyable.This nature travel guidebook to Southern Morocco contains routes and background info on landscape, flora and fauna.
* Landscape history * Ecosystems * Geology * Flora and Fauna * Where to watch birds * Finding mammals, reptiles, butterflies, dragonflies and wildflowers
25 detailed routes with tips for finding wildlife and 29 site description
Other titles from the series : Crossbill Guides
You may also like...