Cumacea Fauna Republicii Populare Române: Crustacea Vol. IV, Fasc. 1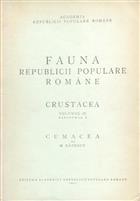 Description:
Text Romanian.
Condition
Wrappers slightly fadded. Paper browned. Good. From the library of Prof J. Green (1928-2016) with his name to title page.
Other titles from the series : Fauna Romaniei/Fauna Republicii Socialiste Romania/Fauna Republicii Populare Romania
Click to view all titles in this series...

Botnariuc, N.; Orghidan, T.
Price £25.00
You may also like...