Current Advances in Scarabaeoidea Research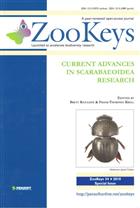 Description:
Zookeys 34 (Special Issue). Contains papers covering a wide range of research topics on Scarabaeoidea, including evolutionary relationships, character trait evolution, species concepts, descriptions of new taxa, keys for identification, nomenclature, historical biogeography, methods, and basic life history information. These papers are a valuable contribution to our knowledge of scarabaeoids, and they will provide a foundation for future research
Other titles from the series : ZooKeys
You may also like...