Damselflies of Brazil. An Illustrated Identification Guide 2: Coenagrionidae Families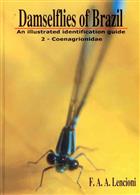 Description:
Bilingual text: English + Portuguese. This book enables identification of all described species of damselflies (Zygoptera) known in Brazil. With more than 300 species distributed among ten families, Brazil contains one of the most species-rich damselfly assemblages in the world. This second volume covers the large family Coenagrionidae
You may also like...