Danmarks frøtæger [Danish Lygaeidae]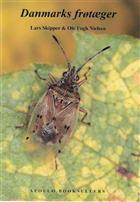 Description:
Text Danish. This is the first ever complete study of the Danish Lygaeidae (Hemiptera). The 77 species currently known from Denmark are dealt with in detail, and the book is illustrated throughout with beautiful colour photos. Distribution maps to all species. Introductory chapters on: Historical background, Evolution history; Systematics and nomenclature; Habitus; Life cycle; Food; Enemies & defence; Habitats; Status & distribution; How to study these bugs; The Danish families.
Other titles from the series : Danmarks Dyreliv
You may also like...