Darwin et Wallace , il y a un siècle...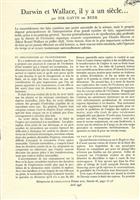 Description:
Text French. Reprinted from Endeavour Vol XVII, no. 66, pp 61-76
Condition
Vg. From the library of Keith Hyatt (d. 2021), acarologist at the Natural History Museum, London, and prominent member of the London Natural History Society, with his signature to front page.
Other titles from the collection : Keith Hyatt
You may also like...