Der Kosmos Heuschreckenführer: Die Arten Mitteleuropas sicher bestimmen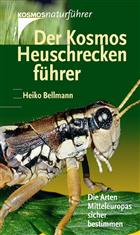 Description:
Text German. Excellent illustrated field guide to the Central European Orthoptera. 225 species are described: all Central European species (160) and many from southern Europe. Previously published by the Natur-Buch Verlag (1993)
Other titles from the series : Kosmos Naturführer
You may also like...