Der Kosmos Schmetterlingsführer: Schmetterlinge, Raupen und Nahrungspflanzen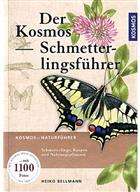 Description:
3rd edition. Text German. Standard identification work on the most common Central European and the most striking southern European butterflies and moths. The comprehensive guide includes all developmental stages: eggs, caterpillars, pupae and the related food plants. More than 1,100 color photos - often containing up to three photos per species - show the splendor of these fascinating insects.
Other titles from the series : Kosmos Naturführer
You may also like...