Der Kosmos Heuschreckenführer: Die Heuschrecken Mitteleuropas und die wichtigsten Arten Südosteuropas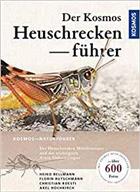 Description:
Text German. 2nd revised edition, with expanded geographical coverage. Excellent illustrated field guide to all 284 species of grasshoppers and crickets from Central Europe and the northern Mediterranean between Istria and the Pyrenees as well as Greece and Croatia. All species illustrated by colour photos. Sonograms allow identification by songs.
Other titles from the series : Kosmos Naturführer
You may also like...