Descriptive Catalogue of the Physiological Series in the Hunterian Museum of the Royal College of Surgeons of England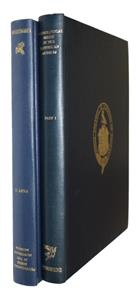 Description:
Description of all remaining specimens from John Hunter's physiological collection. Part 1: Surviving Hunterian specimens demonstrating those organs in plants and animals for the special purposes of the individual. Part 2: Hunterian specimens demonstrating the products of generation together with surviving Hunterian specimens from other sections
Condition
Orig. cloth. Fine. From the library of Prof. A.J.E. Cave
Other titles from the collection : Prof. A.J. Cave's Library
You may also like...