Galen on Anatomical ProceduresDe Anatomicis Administrationibus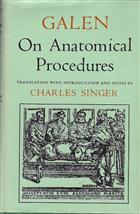 Description:
Published for the Wellcome Historical Medical Museum. Translation of the surviving books with introduction and notes by Charles Singer.
Condition
Orig. cloth. Vg in d/w (one small tear to d/w). From the library of Prof. A.J.E. Cave, inscribed to him from E. Ashton Underwood (Director of the Wellcome Historical Medical Museum). Enclosed is a letter from Underwood to Cave, presenting this inscribed copy of Singer's Galen and thanking him for "the time you spent in discussing with me certain of the anatomical terms".
Other titles from the collection : Prof. A.J. Cave's Library
You may also like...