Die Fliegen der Palaearktischen Region Bd VII/2. Fam. 63b: Muscidae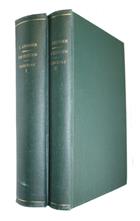 Description:
Text German.
Condition
2 vols, 4to, buckram, eges speckled red. Vg. From the library of British dipterist, John Bowden (1924-2012), an expert on the world fauna of bee-flies (Bombyliidae), with his name to title.
Other titles from the series : Fliegen der palaearktischen Region (Ed. E. Lindner)
You may also like...