Die Grabwespen: Illustrierter Katalog der einheimischen Arten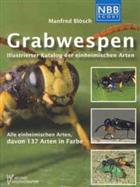 Description:
Text German. Field guide to the Sphecidae of Germany. List of the 246 species recorded from Germany, and a further 63 known from Austria and Switzerland. Colour photos of 137 selected species (many in both sexes). Short descriptions, distribution and habits of each species
You may also like...