Dispelling the Darkness: Voyage in the Malay Archipelago and the Discovery of Evolution by Wallace and Darwin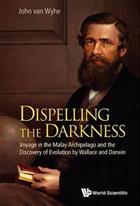 Description:
Charles Darwin remains one of the most famous scientists in history. His life and work have been intensively investigated by historians for decades. In comparison, the other man to conceive of evolution by natural selection is comparatively forgotten Alfred Russel Wallace. This book is based on the most thorough research programme ever conducted on Wallace. There are many surprises. As he travelled from island to island collecting vast numbers of exotic birds and insects, his ideas about species gradually evolved. This book reveals for the first time how Wallace solved one of the greatest mysteries of life on Earth.
You may also like...