Dragonflies and Damselflies of China. Vol. 1-2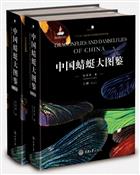 Description:
Text English/Chinese. A total of 820 species belonging to 23 families and 178 genera from all over China are illustrated, more than in any comparable book worldwide. The thousands of beautiful photos have been carefully selected from over 200,000 shots. They are chosen to show a species in the best view and help the readers to quickly identify species with the help of the generalized identification text. Diagnostic photos, including wing venation, anal appendages, secondary genitalia, etc, are taken from specimens in the author's collection.
You may also like...