Dragonflies and Damselflies of Hertfordshire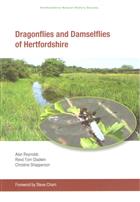 Description:
Reduced from £15.00. Covers all 19 species breeding in the county, with distribution maps, flight charts, and all rare migrants recorded since 1975. Colour photos of all species. "Where to watch dragonflies" gives details of the Top 10 sites to visit in Hertfordshire, with colour photos and access maps
You may also like...