Echinoidea Vol. 1: Echinoidea with Pentameral Symmetry (Handbuch der Zoologie)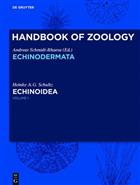 Description:
Text English. This book is the first of two books about sea urchins (echinoids). The detailed descriptions and coloured illustrated enable the reader to identify all living species. Volume I. describes the sea urchins with pentameral symmetry and either with a few spines (cidaroids) or with more or less numerous spines ("regulars") living on the sea floor. The only complete and fully illustrated synopsis on the class Echinoidea, with detailed and coloured illustrations, enables identification of the different species and understanding of the ecological networks.
Other titles from the series : Handbook of Zoology/Handbuch der Zoologie
You may also like...