Sea Anemones and Corals of Britain and Ireland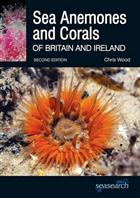 Description:
2nd edition, extensively updated. A comprehensive guide to all known sea anemones and corals found in British and Irish inshore waters. It is an essential companion for divers, snorkelers, rockpoolers and students who want to identify and know more about the sea anemones and corals they find. Illustrated with over 200 in situ underwater colour photographs and illustrations. Each species account contains information on habitat, distribution, depth, size, rarity and conservation status where known.
Other titles from the series : Seasearch Guides
Click to view all titles in this series...

Wood, C.
Price £15.95
(Save £4.05)

Bunker, F.StP.D.; Brodie, J.A.; Maggs, C.A.; Bunker, A.R.
Price £20.00
You may also like...