Ecomorphology of the Larvae of Diptera Cyclorrhapha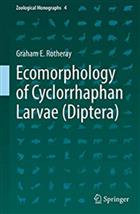 Publisher : Springer
Illustrations : 60 illus (40 col)
Description:
* Maximizes reader insights into principal forms, functions and roles of Diptera Cyclorrhapha larvae
* Explains the concepts of saprophagy, phytophagy and mycophagy, as well as zoophagy
* Covers functional morphology of cyclorrhaphan respiratory and locomotory system
This book is an account of the larva of Diptera Cyclorrhapha. It deals first with the principal forms, functions and roles of larvae. From these basics, feeding, locomotion and respiration in larval saprophages, phytophages and zoophages are evaluated as keys to explain and predict larval morphology. Emphasis is given to the environmental affects on morphology, the adaptiveness of morphological features and comparisons between adaptive features. Assessment of larval attributes that have the potential to explain the success of the Cyclorrhapha, future directions in which research might go and a summary of main findings and conclusions complete the narrative. The book will appeal to entomologists, evolutionary biologists, and Diptera researchers of all kinds.
You may also like...