Ethiopia (Bradt Travel Guides)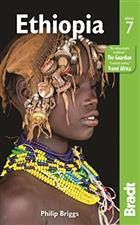 Description:
Renowned Africa expert Philip Briggs takes to the road again with this 7th edition of his much-praised guide to Africa, the longest-serving, most comprehensive and in-depth guide to the country available. 2015 marks the 20th anniversary of the guide's original publication and Briggs has returned to Ethiopia for this full-scale revision. Of all the African nations, Ethiopia is most prone to
misconceptions, but this fully updated guide refocuses the lens to reveal an ancient country that continues to surpass all expectations.
You may also like...