European Strategy for the Conservation of Invertebrates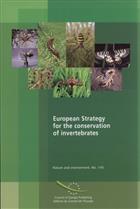 Description:
Invertebrates make up the greater part of the world's biological diversity. Large numbers of invertebrate species are under severe threat of extinction in Europe, or are already extinct due to the extreme changes in habitats brought about by man. The European Strategy for the conservation of invertebrates, adopted by the Council of Europe (Bern Convention) in 2006, addresses the loss of invertebrate biodiversity and promotes their conservation and the services they provide in terrestrial and non-marine aquatic environments. The Strategy offers appropriate guidance to European governments, other decision-makers, land managers, scientists and teachers that have potential influence on invertebrate conservation
Other titles from the series : Nature and Environment
You may also like...