Extinct: Artistic Impressions of Our Lost Wildlife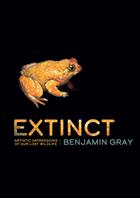 Publisher : CSIRO
Illustrations : col illus
Description:
Showcases stunning artwork and stories of Australian animals that have been lost to extinction.
Australia is home to an incredible diversity of native animals. While Australian animals are among the most unique in the world, they are also among the most endangered, with hundreds currently on the brink of extinction. We must act quickly if we are to save these species, as once gone, they are gone forever.
Extinct is a collection of artworks from established and emerging Australian fine artists, each depicting an Australian animal that has already, for various reasons, tumbled over the edge into extinction. Extinct laments their loss, but also celebrates their former existence, diversity and significance. The stunning artworks are accompanied by stories of each animal, highlighting the importance of what we have lost, so that we appreciate what we have not lost yet.
Features original artworks by over 40 of Australia's contemporary and most distinguished artists, including those from Indigenous and migrant backgrounds and artists with intellectual disabilities.
Highlights many species that have never been depicted or photographed before, or those for which only a handful of visual references exist. Presents physical descriptions and meticulously researched, fascinating facts about the behaviour and biology of these lost species. Includes previously unheard stories of these extinct species, drawn from Indigenous histories, colonial commerce and European settlement.
You may also like...