Fertilisation of Flowers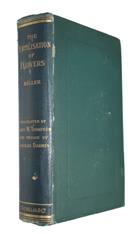 Description:
Translated from Die Befruchtüng der Blumen durch Insekten, edited by d'Arcy W. Thompson. With a preface by Charles Darwin (pp.vii-x).
Freeman 1432.
Condition
8vo, orig. green cloth, gt, some wear to joints and corners. Ex-lib.: several cancelled ink stamps to prelims; institutional book-plate. From the library of K.G.V. Smith (1929-2017), leading British dipterist at the Natural History Museum, London, and editor of the Entomologist's Monthly Magazine - with his signature and pencil note to verso of endpaper.
Other titles from the collection : Ken Smith
You may also like...