Field Guide to the Albatrosses, Petrels and Shearwaters of the World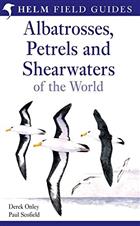 Description:
Famous for their size and elegance in flight, albatrosses are familiar to anyone who has travelled through the southern oceans, and are a flagship family of conservation concern. However, albatrosses are just one of several groups of 'pelagic' birds - those that visit land only to breed, and spend the rest of their lives far from the coast, soaring from ocean to ocean in a never-ending search for food. Mysterious and graceful, these birds can present a formidable identification challenge to even the most experienced birder. This book provides the answer - the first comprehensive guide to pelagic birds, the albatrosses, petrels, shearwaters, storm-petrels and diving petrels.
Other titles from the series : Helm Field Guides
You may also like...