Field Guide to the Birds of Chile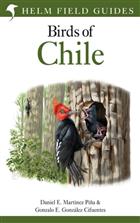 Description:
With its diverse range of habitats, Chile is one of the top birding destinations in South America and supports an interesting range of breeding and visiting birds, including the Chilean Tinamou, Juan Fernandez Firecrown and a number of other endemic species. This comprehensive field guide covers all of the species recorded in Chile, including vagrants; all are illustrated in superb detail, and feature every major plumage variation. Concise species accounts describe key identification features, status, range, habitat and voice, and accurate distribution maps are also provided for every species. Together, these elements make this the essential field guide to the birds of this fascinating and beautiful region.
Other titles from the series : Helm Field Guides
You may also like...