Field Guide to the Pitcher Plants of Peninsular Malaysia and Indochina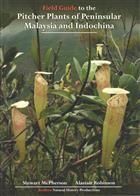 Description:
This field guide offers a beautifully illustrated overview of the twenty three species of pitcher plant (Nepenthes) from Cambodia, Southern China, Laos, Myanmar (Burma), Peninsular Malaysia, Thailand, and Vietnam. Each pitcher plant is profiled over two pages with three images and a concise summary of key features.
You may also like...