Flowers of Greece and the Balkans: A Field Guide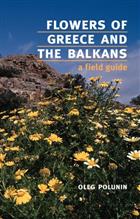 Publisher : Oxford University Press
Published In : Oxford
Illustrations : 80 pp of colour plates, 62 pp of line drawings
Description:
Almost 3,000 species of flowering plants are named or described and keyed in this, the third of Oleg Polunin's guides to the flowers of Europe. The author describes the 16 richest plant hunting areas from his own experience travelling in the area. The 461 colour photographs on 64 plates are supplemented by illustrations of characteristic plants in each region, and line drawings of diagnostic features of selected plants.
- Beautifully illustrated with hundreds of colour photographs and line drawings
- Contains key descriptions to aid identification of plants
- Includes discussion of the biogeography and ecology of the region
You may also like...