Freshwater and marine diatoms from Palawan (a Philippine Island) (Bibliotheca Diatomologica 13)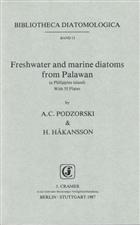 Description:
A total of 348 species, varieties and forms in 74 genera were found, the majority of which were new Philippine records. Navicula was represented by 51 taxa, Mastogloia by 39, Amphora by 22 and Nitzschia by 22.
Condition
Vg From the library of Prof. J. Green (1928-2016) with his name to title page.
Other titles from the series : Bibliotheca Diatomologica
Other titles from the collection : Prof Jim Green
You may also like...