Fruit Fly Research and Development in Africa: Towards a Sustainable Management Strategy to Improve Horticulture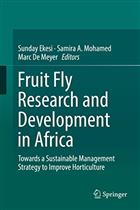 Publisher : Springer
Illustrations : 153 illus, 94 col illus
Description:
Horticultural sector presents many opportunities for economic development and improving livelihood of growers but several factors constrain production and limit the potential for trade of fruits and vegetables. Tephritid fruit flies constitute a major constraint. They cause enormous losses through direct feeding damage and loss of market opportunities through imposition of quarantine restrictions by importing countries to prevent entry and their establishment. In Africa, several native (Ceratitis and Dacus spp) and exotic (Bactrocera and Zeugodacus spp.) species inflict considerable losses to horticulture causing losses ranging from 30-90%. Over the past 10 years of R&D, extensive Information has been generated on bioecology and management of several native and exotic fruit flies in Africa. While several specific reviews have addressed various aspects of the biology, ecology and management of economically important tephritid fruit flies; coverage of African native species has been limited largely to Bactrocera oleae and Ceratitis capitata – which are not economically important species in many Africa countries. Indeed, no book exist that have explicitly addressed economically important African fruit flies and none of the various reviews, have specifically focused on the status of the bioecology, economic impact and management of exotic and native fruit flies – including several potentially invasive Dacus species attacking vegetables - in Africa. This book consolidates this status of knowledge and socio-economic impact of various intervention techniques that are currently being applied across Africa. The timing of the book is especially pertinent due to the changing fruit fly landscape in Africa – caused by arrivals of
the highly destructive alien invasives (Bactrocera dorsalis, B. zonata, and B. latifrons) - and the priorities African countries have placed recently on export of fruits and vegetables to international markets. This is an important reference material for researchers, academics
and students that are keen at improving horticulture and enhancing food and nutrition security in Africa and beyond.
- Comprehensive appraisal of fruit fly problems and solutions in Africa from taxonomy, to bioecology and management with powerful color plates of native and invasive species
- Powerful focus on management and economic impact assessment
- All-inclusive assessment of perspective for the future and R&D that are necessary to feed into current management methods
You may also like...