Fungi Non Delineati 33: Studies in Galerina. Galerinae Flandriae (2)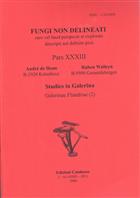 Description:
Text English. Illustrated descriptions for 16 Galerina taxa collected in Flanders, northern Belgium
Other titles from the series : Fungi Non Delineati
Click to view all titles in this series...
Haan, A. de; Walleyn, R.
Price £17.50

Ferrari, E.; Bandini, D.; Boccardo, F.
Price £25.00

Boccardo, F.; Ostellari, C.
Price £26.00
You may also like...